13-14 September 2014
Saturday 13th September
Attendance 4:
The day started with Adam and Chris Guntrip stripping down the brake hangers removing the brake block holders and the old worn brake blocks. The brake block holders are going to be taken to the locomotive works so that Chris Guntrip can sand blast these in the near future. Ross was given the task of making a start to the needle gunning of the Co bogie frame. Joe made a start on drelling off one of the brake hangers that had been stripped down earlier in the day. By the end of the day 3 brake hangers had been drelled and these were given a coat of anti-corrosive primer.
In the afternoon Adam drelled up some pipe clips, these were painted in primer. It was a good day's work and the size pf the task has been weighed up. The next big job will to lift off the central spider and lift out the traction motors so that they can be sent away for overhaul.
Sunday 14th September
Attendance 1:
Phil Cribbin spent the day continuing on from where Ross had left off on Saturday with the needle gunning of the bogie frames, this is going to be a time consuming task but it'll be worth it once it's all finished and painted.
If you wish to lend a hand please contact Adam Booth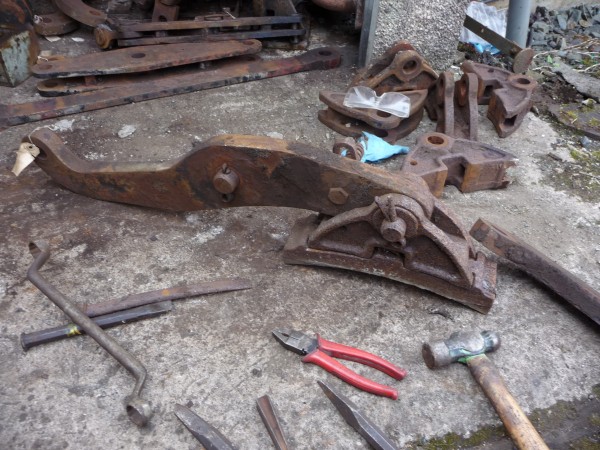 Above : Brake hangars prior to being stripped down.

© C15PS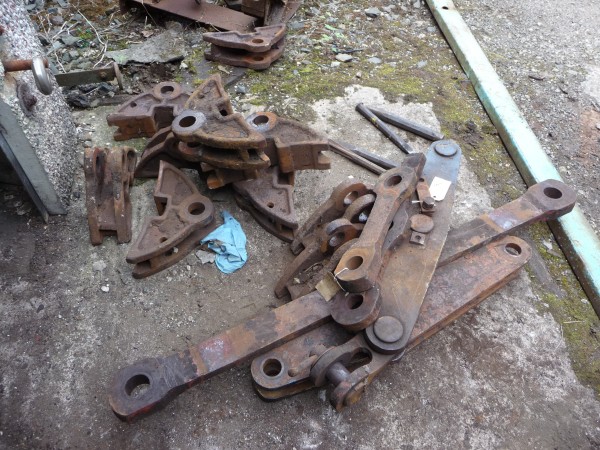 Above : A pile of rustry pieces ready to be sand blasted by Chris Guntripp.

© C15PS
Fancy Getting Involved? click on the You Can Help page