9 November 2008
Work continues on D5705 and this week there was such a good turnout of volunteers for the Class 15 team that there wasn't enough work for all of them so the Co-Bo benefited from extra man-power. The main emphasis for this working weekend was stripping and painting of the fuel header tank. After liberating it from the engine room, we quickly set about removing the various pipes, valves and taps placing them in a 'To Sort' box.
Dave Garnett set to work drelling the items that had been removed while Rob Mason emptied the tank of its diesel and transported it down to Castlecroft to give it a good steam clean. Once it arrived back the tank was drelled on the outside and after the removal of two stubborn plugs with the application of a little heat the tank was treated with anti-corrosive green paint. We also had the pleasure of Aidan Brosnan from the Irish Traction Group who kindly offered to lend us a hand for the day. So we packed him off into the Co-Bo with an angle-grinder and some green paint. After a few hours the rest of the treadplate supports had been drelled and painted.
On the next working weekend we will be finishing the painting of the fuel header tank and making a start on the water header tank.
We are still lacking people to help out on D5705, if you can help in anyway please contact Chris Tatton .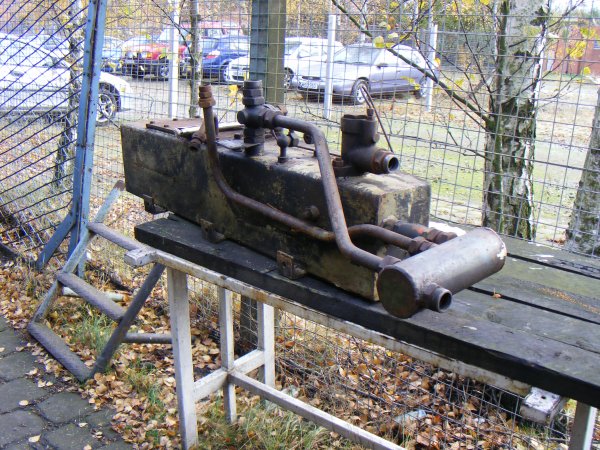 Above : The Fuel Header tank has been liberated from D5705!

© C15PS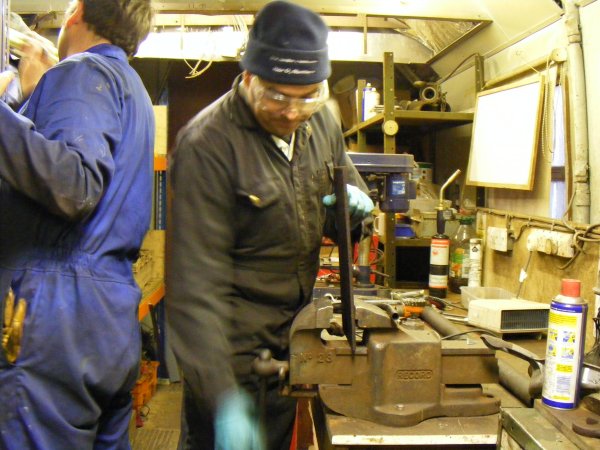 Above : Once stripping of the tank was complete, Dave G gave me a hand by drelling all the components I had taken off.

© C15PS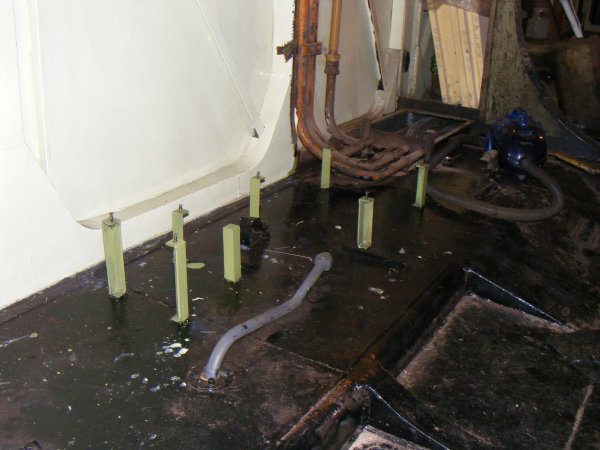 Above : This pic shows what Aidan achieved when we leave him alone with an angle grinder, green paint and couple of hours.

© C15PS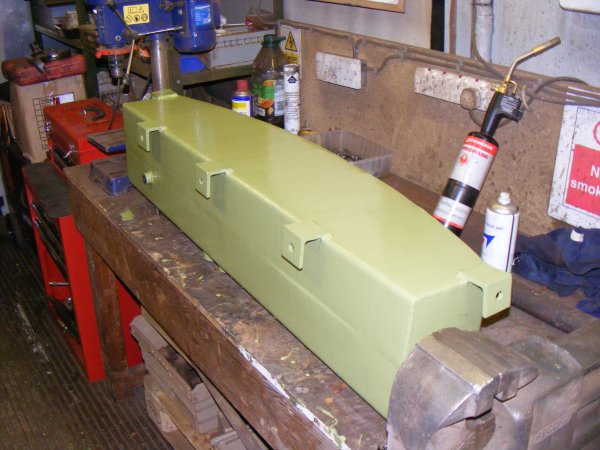 Above : The Fuel Header Tank has finally made it onto the bench and after some degreasing we slapped on some anti-corrosive green paint.

© C15PS
Fancy Getting Involved? click on the You Can Help page