14 October 2008
3 working members present for a midweek work day on D5705.
The aim was to get the engine room walls drelled and primed for the power unit area, there was a lot of ground to cover and a early start was made, other progress saw the removal of the fuel header tank, so the area behind it can be drelled and painted.
The centre of the fan was filled with diesel so it can soak for a few weeks before we attempt to remove the fan from the motor, the motor will need sending away for overhaul as it is quite a bit of a state. The removal of the fan and motor will also allow full access for drelling and painting in the upper cooler group area, then the cooler group rebuild can commence.
A start was also made on removing the bolts for the cooler group bellows these need the material replacing as there is very little left, however access isn't that easy and it proved to be a time consuming task. The undercoated cooler group floor received its first coat of black floor paint gloss and it is now hoped to complete painting in the engine room area before the end of the year.
We are still lacking people to help out on D5705, if you can help in anyway please contact Chris Tatton .
Above : Drelling the engine room walls.

© C15PS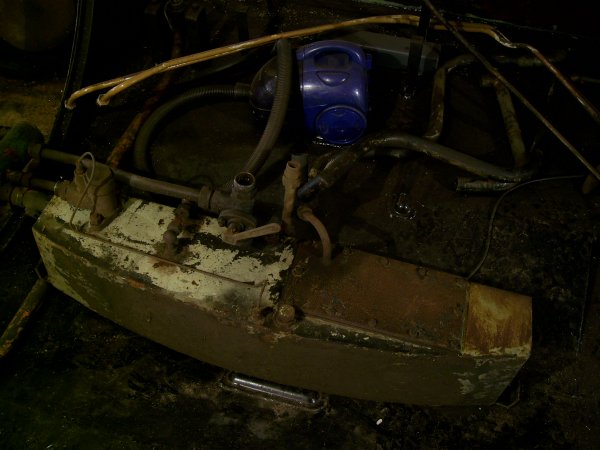 Above : The fuel header tank. This will be refurbed in due course..

© C15PS
Above : Painted Engine room wall.

© C15PS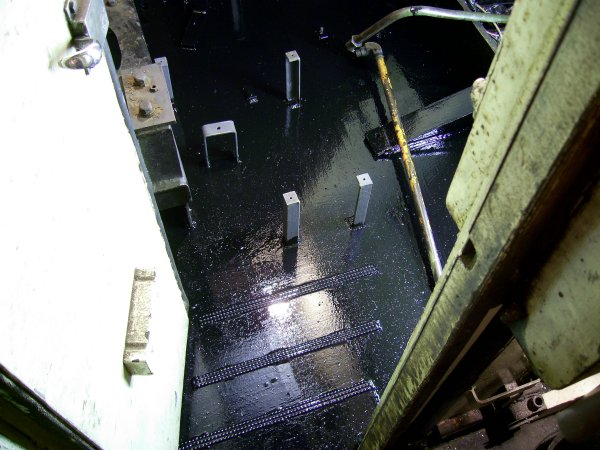 Above : Glossed engine room floor.

© C15PS
Fancy Getting Involved? click on the You Can Help page