06-07 September 2008
There were a small number of outstanding jobs that were undertaken on D5705, the painting of the engine room floor was unfinished from last time so the first order of business was to lay down the first coat of the black floor paint, fortunately a new volunteer came down for a try out and he was just the man who could be put on the job, his name is Jordan Aspin and he came up to the coach and introduced himself, he is from Barrow in Furness and works for Northern Rail and he has a railway background which is useful, he also knows of old railway workers who used to work on the Co-Bo's back in their final years when they worked on the Carlisle to Barrow services and these could be useful contacts to know for future reference.
Jordan was given the task of continuing the floor painting and set to work and he soon finished the floor painting having slapped it down nice & thick as we'd had asked. We then suggested that a start could be made on degreasing the floor section in the cooler group, he was given the tools for the job and managed to scrape up all of the heavy gunk, by which time it was mid afternoon and Jordan had to leave, but he had done a cracking job and has proved himself to be a willing & useful volunteer and hopefully we will see more of him in the future.
On the Sunday it was an early start again with Rob applying the 2nd coat of black floor paint, this means that both sides of the engine room floor are now fully painted with the same amount of paint and that job is finished, later on in the day Jason went into the Co-Bo and had to hack saw off a couple of the air cooling pipes that feed cooling air into the auxiliary motors at the cooler group end. These pipes are steel and welded in place onto the large traction motor blower box, they cannot be removed and are getting in the way of the job of degreasing and painting the cooler group floor, so it was decided to hack saw through the pipes are certain places and later they can be either re-welded or fitted with a rubber hose & clips as its only cooling air passing through the pipes and not compressed air or fluid under pressure, with that done the way is clear for the cooler group floor are to be fully degreased next time round.
If you are toying with idea of getting involved, then take that leap and do so! you wont regret it! Be a part of something unique contact Chris Tatton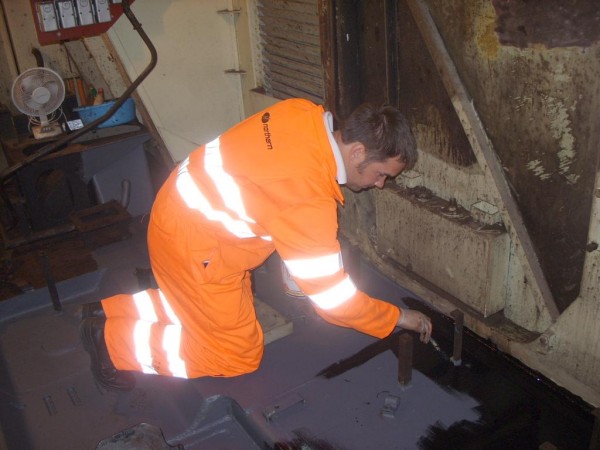 Above : Try out volunteer Jordan was kept busy doing the floor painting..

© C15PS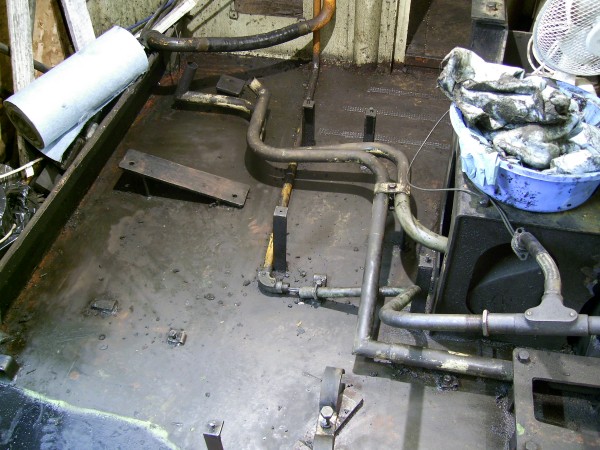 Above : It may not look it but degreasing of the cooler floor has begun.

© C15PS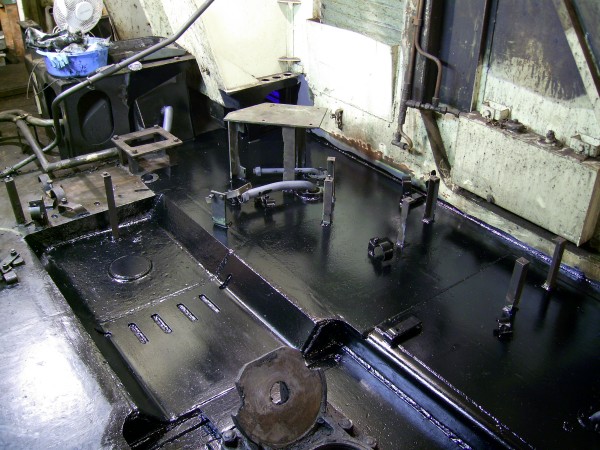 Above : And now all of the engine room floor had been painted black.

© C15PS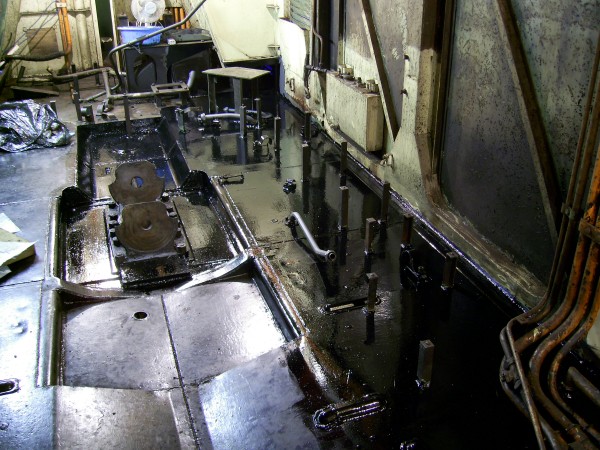 Above : And now all of the engine room floor had been painted black.

© C15PS
Fancy Getting Involved? click on the You Can Help page