June - July 2008
Below is a summary of the work undertaken on the loco since its arrival in the care of the C15PS at Baron Street
After speaking with some of the people who had been working on it previously, Chris Guntripp being the only man who knows what work has been done to the Co-Bo since it was first preserved back in the early 80's, we began to get a plan in motion.
On Saturday 21st June the engine compartment was cleared out with all the stored cab restoration materials re-located, the loose pipes that littered the floor were picked up and placed in a pile in the boiler space and the old blue tarp was gathered up and moved to the boiler area too. The condition of the engine room floor could then be assessed. It was found to be dry and covered in light flaky rust, the pipes that run under the engine were removed and during the rest of that weekend the R/H side of the floor was needle gunned, drelled with a wire wheel and finally painted with a coat of the green anti corrosive primer.
Rob Mason one of our volunteers seems to have taken the lead on the Co-Bo restoration effort and on July 5th he turned up and between doing bits on D8233 managed to lay down the 2nd coat of paint on the area of the engine room floor, that being the grey undercoat, then on 13th July he returned again and slapped on the 1st coat of the black floor paint.
The following weekend a 2nd coat of the floor paint was applied by Jason Lovell & Simon Dagnall, BHG member Steve Moreton sometimes does work on the Co-Bo and he and Chris Guntripp are working on the No1 end cab, Steve was also around this weekend working on the on the cab roof peg boarding.
Now that visible progress is being made we can see where the job needs to go for the short term, the restoration of the engine compartment floor being the main task. Tthe floor must be de-greased, drelled and then painted with 3-5 coats of paint, all the pipes that have been removed will also need to be drelled and painted before being put back into position. It is hoped that the lower section of the cooler group can also be renovated in this way, it's a good start and positive way to progress the restoration forward on this other unique loco.
If you wish to lend a hand on D5705 or D8233 please contact Chris Tatton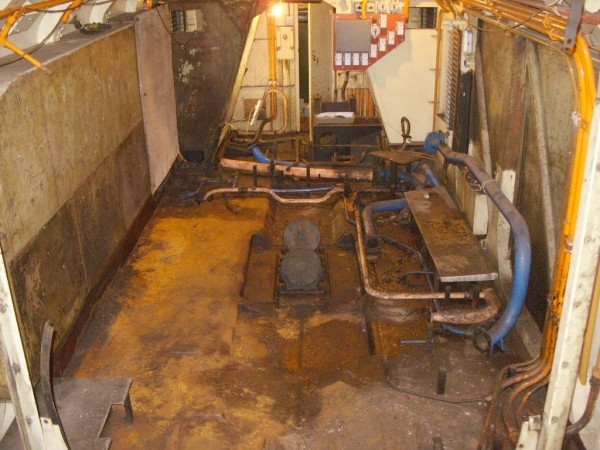 Above : The rusty engine room floor is revealed after the mess was cleared out.

© C15PS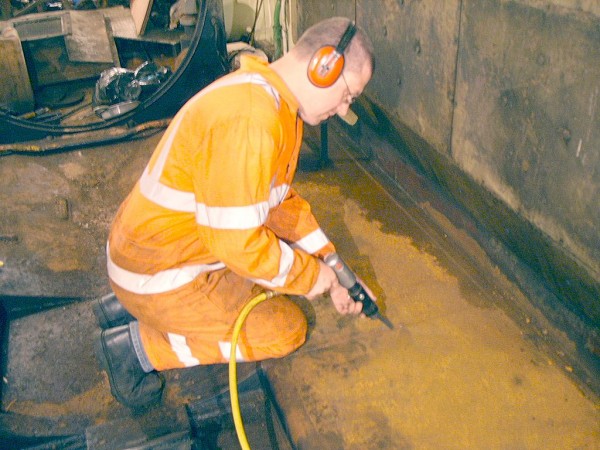 Above : Rob Mason needle guns the rusty area on the R/H engine room floor.

© C15PS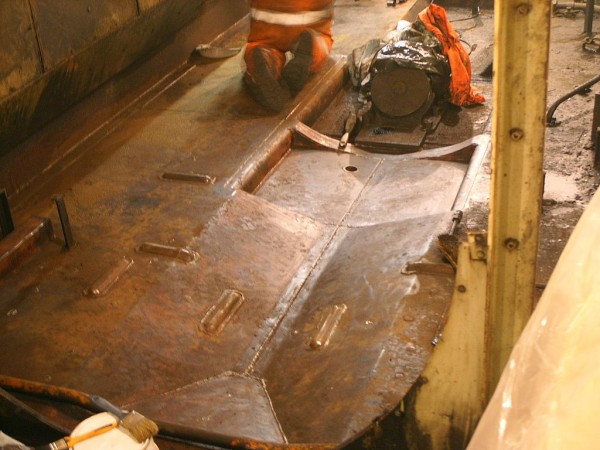 Above : The engine room floor has now been drelled back to bare metal.

© C15PS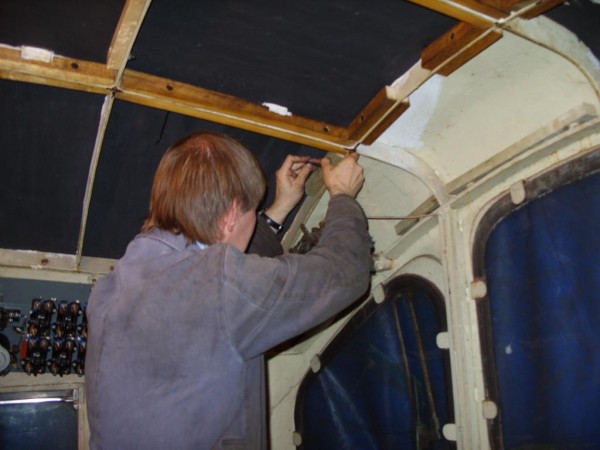 Above : Chris Guntripp is seen fitting wooden battoning to the cab roof frame.

© C15PS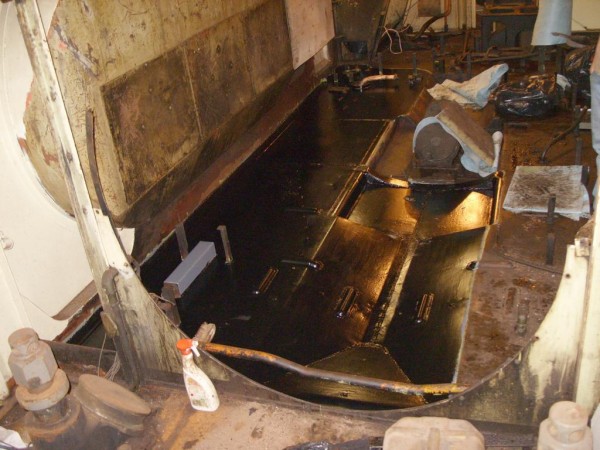 Above : The first coat of black floor paint has been laid down and it looks mint.

© C15PS
Above : Simon Dagnall finishes applying the second coat of the black floor paint.

© C15PS
Fancy Getting Involved? click on the You Can Help page