08 May 2008
Thursday 8th May:
The Metrovick Type 2, BR Class 28 D5705 Co-Bo was delivered to the Class 15 Preservation Society worksite at the back of the long siding next to Baron St shed on Thursday 8th May after D5705 had to be moved out from the Bury Transport museum because the building was being cleared out for renovation work
The 'Object' as it is better known was sheeted over and taken down to sit in the loco stack in Baron street yard. It was agreed that while it was being stored outside the Co-Bo could stabled on the other side of the Class 15 support coach and when ample volunteer labour was available, a team could work on D5705 and start to progressthe locos restoration that had slowed to a snails pace while it was waiting for shed space at Castlecroft.
For the members of the Class 15 group the 'Object' is totally different undertaking. To start off with we just had to get inside and familiarise ourselves with the loco and the work that needed doing. when we got in we were slightly shocked at the state of the interior; bits of the loco have been semi-restored already, one of the cabs is mostly renovated but the other is as original, the electrical cubical is freshly painted but empty save for some re-wiring that has already been done, the brake frame is mostly complete and covered up with a sheet, there are some areas of the body side that have been cleaned & painted and others that are still dirty.
The engine compartment was filled up with an old scrunched up tarp and the insulation sheets and pegboard are propped up against one wall and on the other side there are the pipe runs that are sitting in oil muck yet some pipes have been painted and some not. A start had been made on the lower section of the cooler group but this had been sprayed with muck when the engine compartment was steam cleaned after the engine was removed.
The separation bulkheads from inside the engine compartment have been removed so the whole of the loco interior is a big open space, some of the areas that have been painted already where done years ago and are starting to go rusty again so in summary the restoration of the loco so far has been somewhat inconsistent and the current state of the loco is a bit of a disorganised mess and we didn't know where to start…
If you wish to lend a hand on D5705 or D8233 please contact Chris Tatton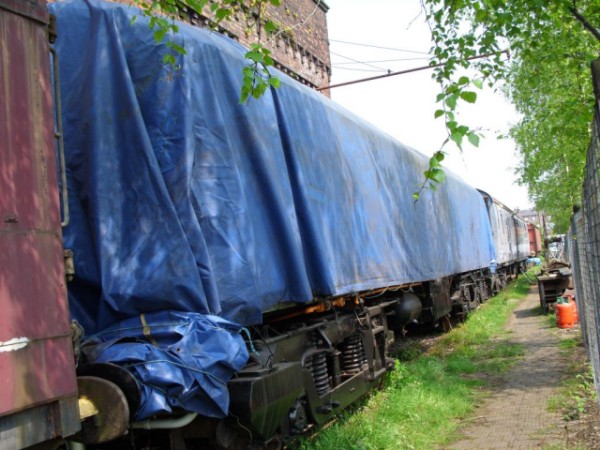 Above : The Co-Bo as seen in position next to the C15PS support coach at Baron Street.

© C15PS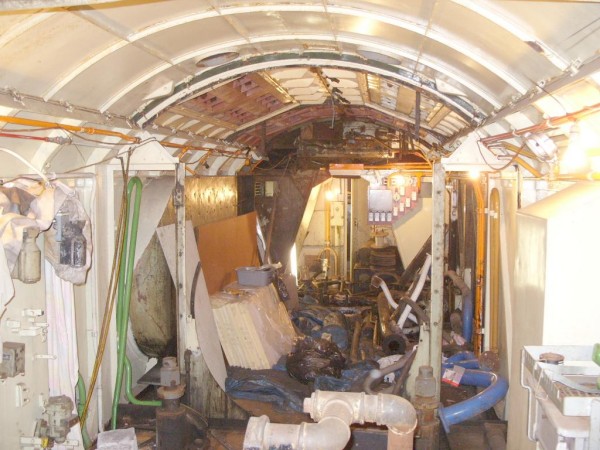 Above : The inside of the loco was a disorganised mess as we found it.

© C15PS
Fancy Getting Involved? click on the You Can Help page